Canoe Polo

TCKC has 60 junior Polo players, aged 12 to 18. Development (beginners) and Premier Leagues. Canoe Polo is the fastest growing competitive canoeing discipline worldwide. more...
Fabulous to play. Full of spectator interest. Canoe Polo combines paddling and ball handling skills within an exciting contact team game. Tactical and positional play are a fascinating ingredient.
Canoe Polo requires excellent teamwork. Promotes general canoeing skills
There are internationally agreed rules for the game. World and European Championships are each held every two years. Great Britain is currently the one of the world's foremost Polo nations as our Women's and Under 21 Men's Teams are both the current World Champions.
There is a full National League structure in this country for Open, Ladies, and Under 18 categories
Many BCU Regions organise local Polo Leagues. National and Local Leagues normally run from October to April each season.
Slalom

Excitement and personal challenge – an ultimate test of skill!  Speed and precision is crucial Canoe Slalom tests river-running skills in a safe and friendly environment. more...
Only basic kayaking skills are required for entry level at Division 4. These slaloms are generally held on calm water and the courses will be simple.
The object is to negotiate a course of gates. The winner of the event will have negotiated the course in the fastest time, with the fewest penalties.
There are penalties for hitting and missing gates. There is usually plenty of time to practice at canoe slaloms. You don't need a slalom boat to come and try slalom
TCKC has paddlers competing in national rankings from the entry point at Division 4 right up to Division 1
Freestyle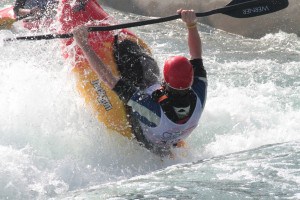 Paddlers use whitewater waves and holes to perform gymnastic-style manoeuvres and tricks in kayaks designed to surf and spin across the water surface and release up into the air. more...
Fun, fast and dynamic!
In competitions, freestyle kayakers gain points for every different trick they perform, with bonus points if they can get their boat out of the water and up into the air
Competitors have to perform as many different moves as possible in 45 seconds
Each different move scores points and the highest overall score wins

Competition 
In Great Britain, competitions are open to all levels, with novices and GB Freestyle team members competing at the same events
Competitions comprise of various classes and categories allowing you to compete at the right level
Often different rules are used for the different experience levels

One of the biggest events of the year is The Youth Freestyle Series
The Youth Freestyle series is a number of one-day events aimed at progressing white-water paddlers